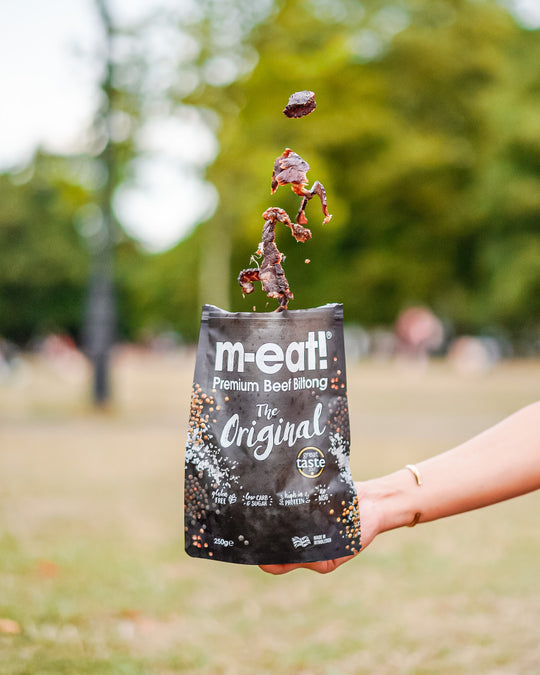 Lisa Gardshol is one of m-eat!'s founders. She has worked with premium biltong in the UK market for more than 17 years. Here, she discusses the importance of ethical, independent farming and consistency in the biltong supply chain 
Like many South Africans, biltong is a part of my heritage.
For the uninitiated, biltong is a completely unique high-protein snack, hand cut from prime silverside beef, lightly spiced and air-dried over three or four days. Hundreds of years ago it was a staple of South African travellers, providing them with a simple, tasty and nutritious meal while on the move. It has been part of the national identity for generations.
But, when a product is so strongly associated with one particular country, introducing it to new markets can be challenging. 
With biltong, the biggest problem is the common misconception that it is just beef jerky by another name. Hugely popular in America and Europe, jerky is billed predominantly as a recreational snack, loaded with added sugar and carbohydrates.  
Biltong contains no added sugar. It is naturally high in protein, making it cleaner, more tender and less chewy than beef jerky. 
And it is very versatile. It crosses the divide between nutrition and indulgence. Biltong is a healthy protein fix for athletes post workout, but it is also a great option for followers of the ketogenic diet, or families looking for healthy snack alternatives for the kids.
So, our first task when we launched m-eat! in the UK was to educate consumers, and get people excited about what was essentially a brand new product.
Consistency the key for perfect biltong
The only way to create that authentic biltong experience in a new market is to ensure continuity and consistency throughout the production process. 
It should be no surprise that the best biltong comes from the best meat. 
I went to university in Aberdeen, and have always had a close connection and affinity with the farming community there. I knew right away that the approach of these highly-skilled cattle farmers with their passion and attention to detail, lent itself perfectly to producing the kind of biltong I grew up with.
We only work with three farms, and they all have an ethical approach that puts animal welfare at the forefront of everything they do. 
Their cattle are grass-fed all year round, either through field-grazing or silage, which is grass harvested in the autumn months and used for feeding in the winter. Onsite vets ensure they comply with strict animal welfare rules and food safety legislation, while the weight of the cattle is closely monitored to produce optimum quality meat.
This consistency means we can be confident that all the biltong we produce is fully traceable from the m-eat! box back through to the individual animal it came from. That is something we will never compromise on.
It might sound unimportant, but small margins matter.
When you try to scale up production, or to cut corners on costs, you immediately lose that continuity. Using cheaper meat from a variety of different sources drastically affects the quality of the product.
South African consumers have always been able to tell the difference. I'm pleased to say that, increasingly, British customers can too. It has been Incredibly heartening to watch this new, knowledgeable consumer market take shape.
And, of course, as times change, people's attitudes change. We have seen a huge surge of interest in our biltong during lockdown, with people putting more emphasis on long-term healthy eating and holding themselves to a higher standard. Our online subscription model means we can get closer to customers, listen to their feedback and provide them with a bespoke selection of flavours every month. 
Most importantly, we feel that we are building a community of new fans. UK biltong customers have traditionally been expat South Africans, craving the taste of home. What is encouraging is that the majority of our most recent subscribers are British. A new wave of biltong enthusiasts sharing our passion for this wonderful, healthy snack.
For me, that is hugely rewarding.