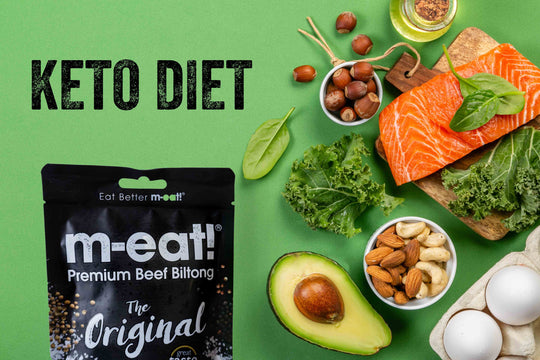 Keto or rather the Ketogenic diet is based on reducing carbohydrates and increasing fats in your diet. It allows the body to enter a state known as ketosis. At this point the body uses fat as its primary source of energy so that stored fat is used up in the long run. The eating plan encourages healthy fats like avocado and olive oil as well as lean protein from grass-fed beef and leafy greens. So to answer a question that is often asked by our community - yes, biltong is suitable for the Keto diet. In fact, the Keto diet and they fit together like a glove.
Ardent followers of the Keto diet swear by both biltong and droewors (drywors) as snacks (both of which are available in the M-EAT! range). The grass-fed beef we use in our biltong produces lean meat that is 54% protein and no sugar (which makes it different from beef jerky which is unsuitable for the Keto diet). The process of producing our biltong matures the beef on the bone for that deep flavour you've come to appreciate. It is then tenderised before air-drying in humidity-controlled spaces. All of which ensures a quality, traceable product in every pack. So now you know that M-EAT! biltong is a Keto-friendly, low- effort snack. It requires no preparation, comes in convenient resealable packs and delivered straight to your door at no extra delivery cost. Biltong will keep you full until lunch or dinner. Be sure to add a pack to your gym bag, hand bag, leave some in your car or for whenever you might feel the need to snack without breaking your Keto diet.
Want to try biltong in Keto recipes? Try these ideas:
Breakfast - Radish Biltong Hash
Ingredients: 340g radishes, peeled and shredded, 2 eggs whisked, 50g of M-EAT! biltong, 1 clove of garlic peeled and crushed, 1 teaspoon onion powder, 2 tablespoons of avocado oil, salt and pepper to taste.
Method:
Place the shredded radishes in a towel and remove excess water. Mix all the ingredients together. Gently heat the oil in a pan or skillet. Pour the mixture in and cook until browned.  Break into large pieces and flip over and brown the other side.
Lunch - Slow Cooker Chicken and Biltong
Ingredients: 5 chicken breasts, 200g M-EAT! biltong, dried thyme, oregano and rosemary. 5 tablespoons of 0live oil and salt to taste.
Method: Mix all ingredients together and cook in a slow-cooker for eight hours. Once cooked shred the chicken, mix with a little olive oil and serve with cucumber salad. This is a great recipe for batch-cooking.
Dinner - Two ingredient Biltong and Brussels Sprouts
Ingredients: 380 grams of brussels sprouts chopped in half with ends removed. 100 grams of M-EAT! biltong.
Method: Cook the biltong in a large frying pan until mostly crispy. Boil the sprouts until tender. Drain and place into the pan with the biltong. Cook together until sprouts are slightly crispy on the outside. Season to taste and serve.
Recipes adapted from The Keto Summit and Paleo Flourish.