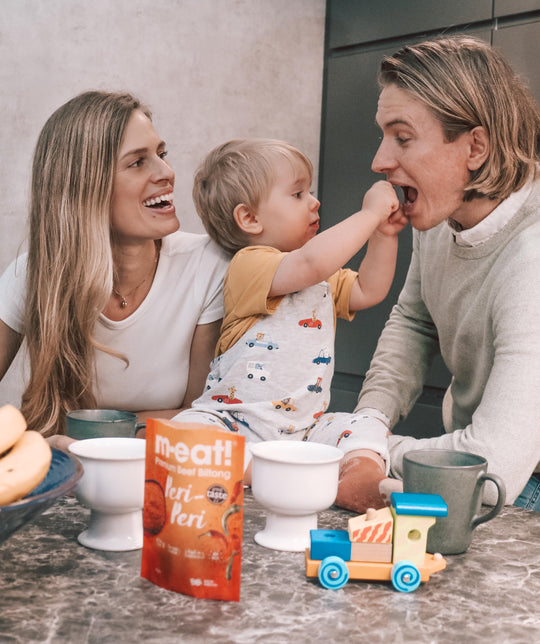 If lockdown fatigue is beginning to grate on you there's no better way to lift the spirit than create something delicious, colourful and healthy in the kitchen. So try these three simple recipe ideas at home and let us know what you thought of them. We always love hearing from you.
Cauliflower, sweetcorn and Peri Peri M-EAT! Biltong tacos
Ingredients:
Half a cauliflower cut into florets.

200 grams of canned sweetcorn

100 grams of Peri Peri M-EAT! Biltong.

One onion sliced

Juice of two lemons

Four corn tortillas

One tablespoon of olive oil

Salt and pepper to taste.
For the tomato dressing:
150ml soy sauce

50grams fresh cherry tomatoes

Juice of four limes

30ml maple syrup

One tablespoon of crushed coriander seeds

Salt and pepper to taste

Fresh mint to garnish
Method:
Steam the cauliflower and place in a baking tray. Drizzle olive oil, salt and pepper and roast for 10 minutes. Add the sweetcorn and onion and cook for a further 10 minutes. Take out of the oven and mix in M-EAT! biltong. 
To make the tomato dressing blend all the ingredients together. Gently heat the tortillas in the oven. Assemble them by adding the cauliflower and sweet corn. Top with tomato dressing and garnish with mint leaves before serving.
Biltong and potato tray bake
Ingredients:
2 tbsp olive oil
2 large onions sliced into wedges
2 red peppers, diced
2 cloves of garlic, chopped
1 tbsp chopped fresh thyme
500g new potatoes halved
100g carrots cut lengthwise
120g M-EAT! Original drywors, broken into small pieces
salt and freshly ground black pepper to taste
Method:
Preheat the oven at 220C. Toss all the ingredients, except Drywors, in a bowl and ensure they're all coated in olive oil. Place in the oven and cook for 30 minutes. Remove from the oven and toss in M-EAT! Drywors. Place the tray back in the oven for a further five to ten minutes. Remove and serve with mustard.
Cheesy spinach and biltong flatbreads
Ingredients:
2 naan breads
100g M-EAT! biltong
4 teaspoons of pesto
6 oz. fresh mozzarella, shredded
200g baby spinach, wilted
crushed red pepper flakes
Method:
Preheat the oven to 220C. Spread the pesto evenly over the naan breads. Sprinkle mozzarella, biltong, spinach and red pepper flakes. Bake for ten minutes until the cheese bubbles. Remove, slice and enjoy when cool.