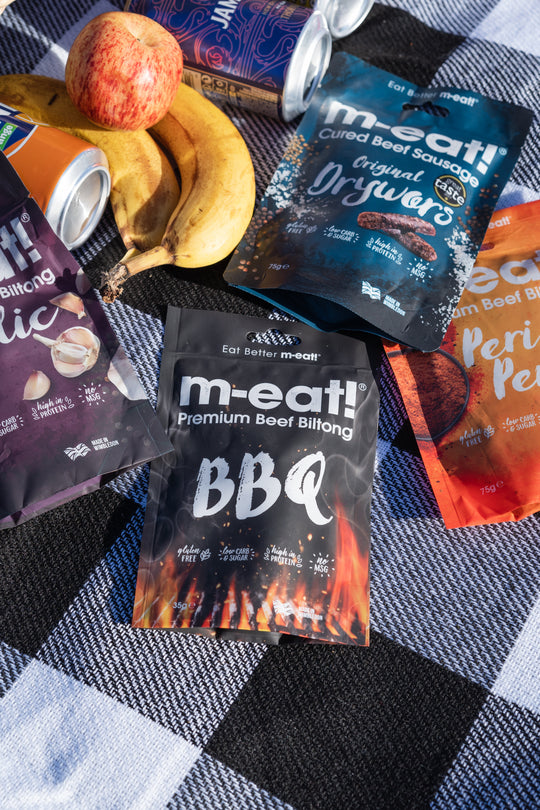 "Not everyone likes all our flavours, but each flavour is someone's favourite" said Irv Robbins, co-founder of the famous Baskin and Robbins ice cream parlour and we couldn't agree more. Do you have a favourite flavour M-EAT! or do you love them all? Discover our flavours if you haven't done so already and tell us which one you would make your flavour of choice.
Our best seller yet and winner of the Great Taste Award 2017, The Original is nothing but pure beef. Dried and cured with a pinch of salt, pepper, a dash of vinegar and some coriander to enhance the taste, this flavour uses the same 400 year old preparation method initially adopted in the southern regions of Africa. A recipe so good and so simple that we've not changed it one bit.
Fancy some sausage with that? Another Great Taste Award Winner 2017, our Original Drywors Cured Beef Sausage will tickle everyone's fancy. It's meaty, it's beefy and is still a great source of protein with over 55% worth or nearly 53 grams per 100 grams consumed. This flavour is seasoned lightly with salt, black pepper and some coriander but it's 90% beef so grab yourself a bag and let us know what you make of it.
A tasty and healthy treat without the bad breath. Garlic is known to have several health benefits such as helping to lower blood pressure, improving cholesterol levels and aiding in the combat against the common cold or flu. It's also highly nutritious but with very few calories so we thought we'd add it to our M-EAT! snacks as we're all about promoting the health benefits of biltong.
Sugar and spice, and all things nice in a bag of Chilli Chutney Biltong. Mmm ! This flavour has won us a double Great Taste Award in 2014 and 2020. No wonder it's a customer favourite. The tender beef cuts are marinated and slow dried for over 3 days, so the flavours really sink deep into the meat, removing all saturated fats in the process.
Perhaps it's the slight tingle of the sweat or the gentle chilli rush that doesn't set your mouth on fire that makes our Peri-Peri flavoured biltong yet another popular choice amongst our loyal customers. Neither too spicy nor too mild, it packs a punch full of magnificently marinated M-EAT! flavour whilst still providing you with those all-important nutrients that contribute to a diet and healthy lifestyle.
BAR-BE-QUE! Yes, we did it. Our BBQ biltong is one of our most recent flavours and a strong contender for, you guessed it, another Great Taste Award. This wonderfully smokey taste is achieved by adding a mix of barbeque spices to the marinade, including mustard, celery and sesame, and leaving it to go through the same traditional process of curing as all our other M-EAT! flavours.
This, friends, is our limited edition biltong using premium wild venison. Marinated and cured with the same process and attention as our beef biltong, our venison edition is a complete source of protein but has more muscle-building power than any other red meat. Whilst the health benefits of venison and beef have some similarities, it can be argued that venison biltong is even better for you.
Why not explore our range of deliciously marinated and cured healthy M-EAT! snacks and pick up a box now.